After reading this article, you'll understand how our referral program works, the terms of remuneration depending on the level of your referral and how you can get your referral bonus. We'll split this into four sections:
How to become a referral partner;
How the 3-level program works;
How to get your referral bonus;
Frequently asked questions.
We'll share with you a % of the purchases of everyone who comes to our platform on your recommendation. Let's take a look at how our referral program works.
How can I become a member of the referral program? Immediately after your registration on GT App, you're able to become a full member of our affiliate (referral) program. This means that you will immediately receive your individual referral link, which you can share with anyone.
You can post it in your blog, a post description or a video. Alternatively, you might just wish to send it to your friends and family. In this sense, you are free as far as your imagination takes you.
You can find your referral link in your account via this link (scroll down a little bit more).

You may also notice that you have at least $10 on your referral balance. This is our bonus for every new GT App user.
The referral program consists of 3 levels. What does it mean?
Let's suppose that you're user A.
User B registered and bought a membership subscription using the referral link of user A.
Now, user A has a referral (for user B) of the 1st level. In this case, user A will receive 25% of the value of user B's membership.
Now, let's say user C will register and buy membership using User B's referral link.
Now, user A has a referral (for user C) of the 2nd level. This means that user A will receive a bonus of 15% of the purchase amount of user C.
User D will sign up and buy a membership using User C's link.
In this case, user A now has a referral (user D) of the 3rd level.
This means that User A will receive 10% of User D's purchase value.
But, if such a description seems too difficult for you, perhaps this image will help you out.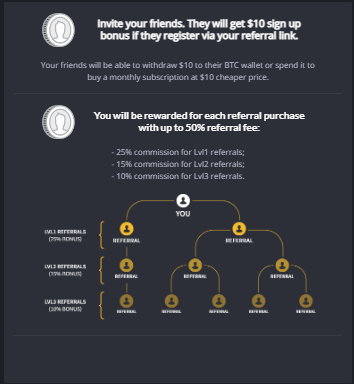 Potentially, for you, our referral program can become a passive and endless source of income.
The referral panel provides detailed information on many items. There, you'll be able to track your current referral balance, how many users clicked on your link, how many people are currently on a free trial or have already bought a membership, etc.
How can you get your referral fee payout?
There are only two points in this question:
The minimum required balance for a withdrawal is $50;

After reaching a balance of $50 or more, payments are made for the previous month, automatically, once a month, on the 10th day.
To receive a payout, you only need to enter the address of your Bitcoin wallet and that's it. Next, you can devote your time to attracting new referrals.
Moreover, you can not only withdraw your balance, but also pay your membership subscription through it. Just let our support team know and everything will be sorted for you.
Frequently asked Questions
Can I register using my own referral link?
No. Unfortunately, this is strictly prohibited. The purpose of the referral program is to encourage partners to spread the word about our products, not to receive discounts or cashback.
Can I register on behalf of my clients using my own referral link?
We recommend that you either register from your clients' computers (if possible) or register your clients as usual (without a referral link) and send us a message with their registration email addresses.
My friend/client signed up without using my referral link. What can I do?
Send us their email address via our support team, where we'll manually add them to the system. Remember, you can't fool our system!
Why can't I see my registrations and/or rewards?
Our tracking system is based on browser cookies, so if you used a different browser/device to register, cleared your cookies, used incognito mode, or signed up with your own referral link, registration may not be tracked. If you are 100% sure that a subscription or sale has not been tracked correctly, please contact us directly.
How long does a referral cookie last?
The referral cookie is valid for 60 days. If a user purchases a product after 60 days from the first referral visit, the conversion will no longer be tracked.