Starting today, all GT App users have access to DeFi Pools on a smart contract.
This means that residents of the US and all other countries that have a ban or restrictions, will now be able to receive all the benefits of crypto trading and futures trading.
How to participate in the Pool?
Go to the

Pools page

and select the Pool you want to connect to

First you need to connect your MetaMask wallet. You can connect the wallet both through the browser extension and through the mobile app.
Pools work with BNB Smart Chain network.
Please make sure you have switched the network in your MetaMask.
If you don't have a MetaMask wallet yet, follow the instructions.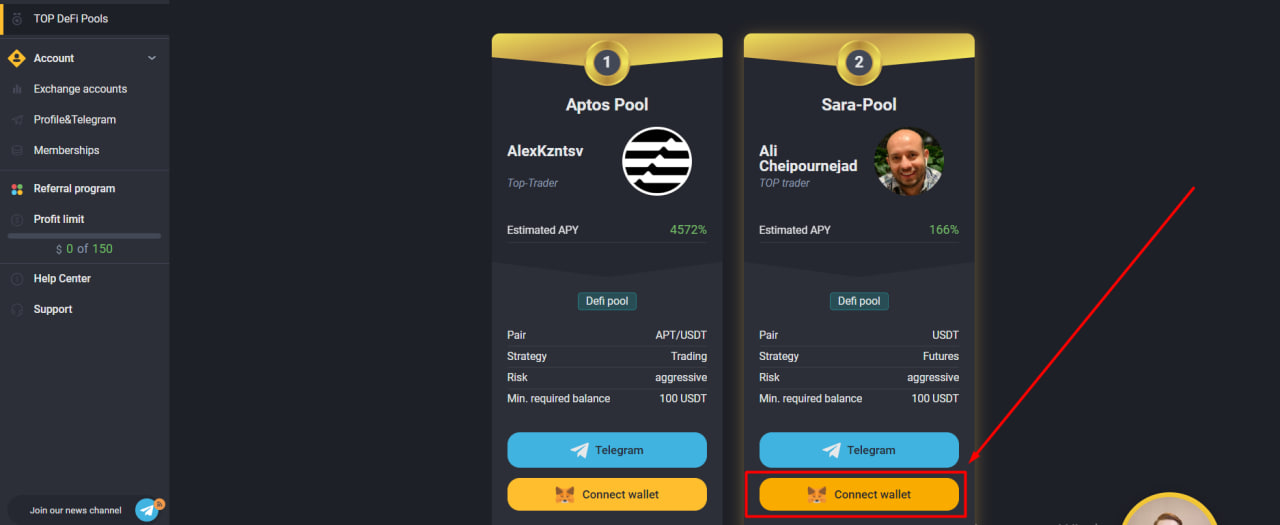 3. Click the "Connect wallet" button again
4. After that, you need to tell the address of your MetaMask wallet to our support team so that we add you to the whitelist of pool participants. Just write to Robert and after that you can transfer the money to the Pool account.
5. When specifying the transfer amount, pay attention to the fee. For example, if the minimum deposit is 100 USDT, when replenishing by 100 USDT exactly, your balance in the pool will be equal to 100 USDT - 0.5% (fee amount).
6. After specifying the amount, confirm the transaction in your MetaMask. Please note that in order to complete the transaction, you must have BNB on your wallet to pay for the blockchain gas fee for the transaction.
7. After confirmation from the network, the pool window will update and you will see your current deposit.

8. After connecting the wallet and making a deposit, you should connect to the Telegram channel, where you will receive regular reports on pool deals.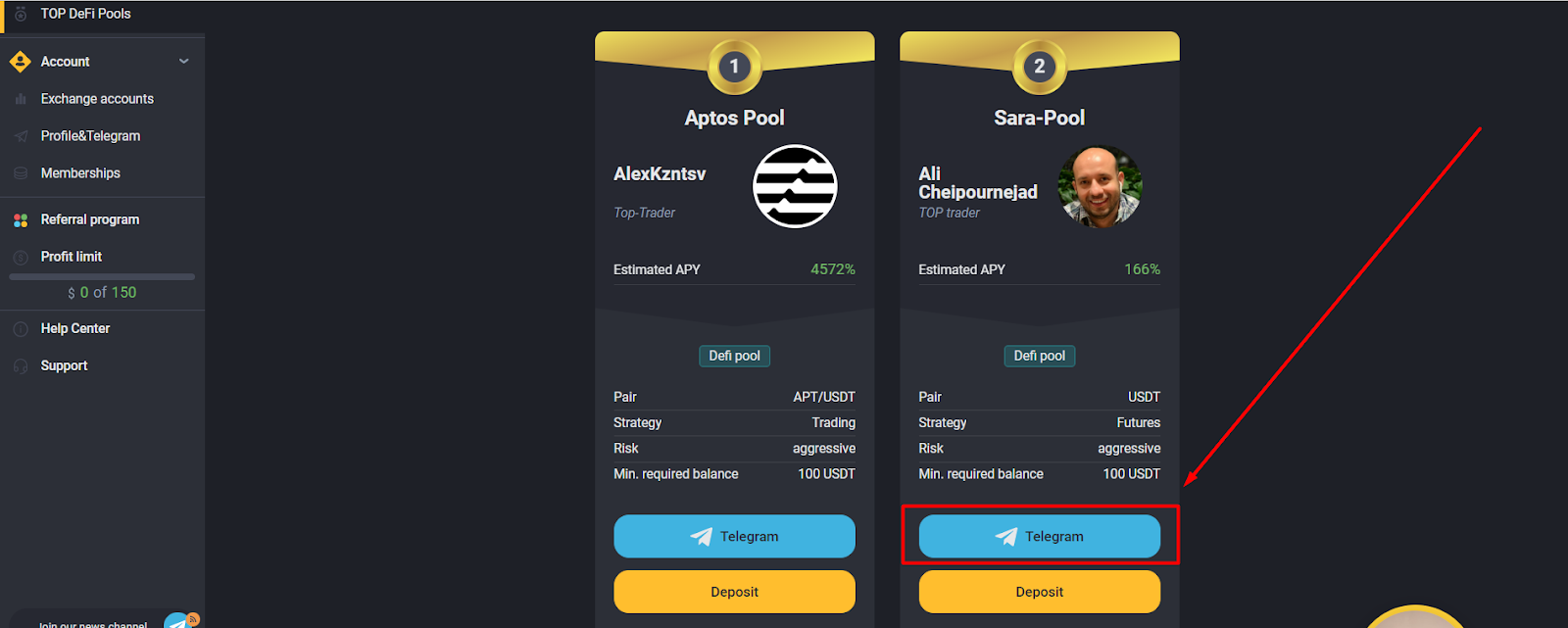 Done, you have become a member of the Pool!
As soon as the required amount is collected, the pool will start working.
After the closure of the pool, you will be able to withdraw your funds. To do this, you need to go to the DeFi pools page and use the "Withdraw" button. Confirm the transaction in MetaMask and the money will be transferred to the wallet from which you replenished the pool balance.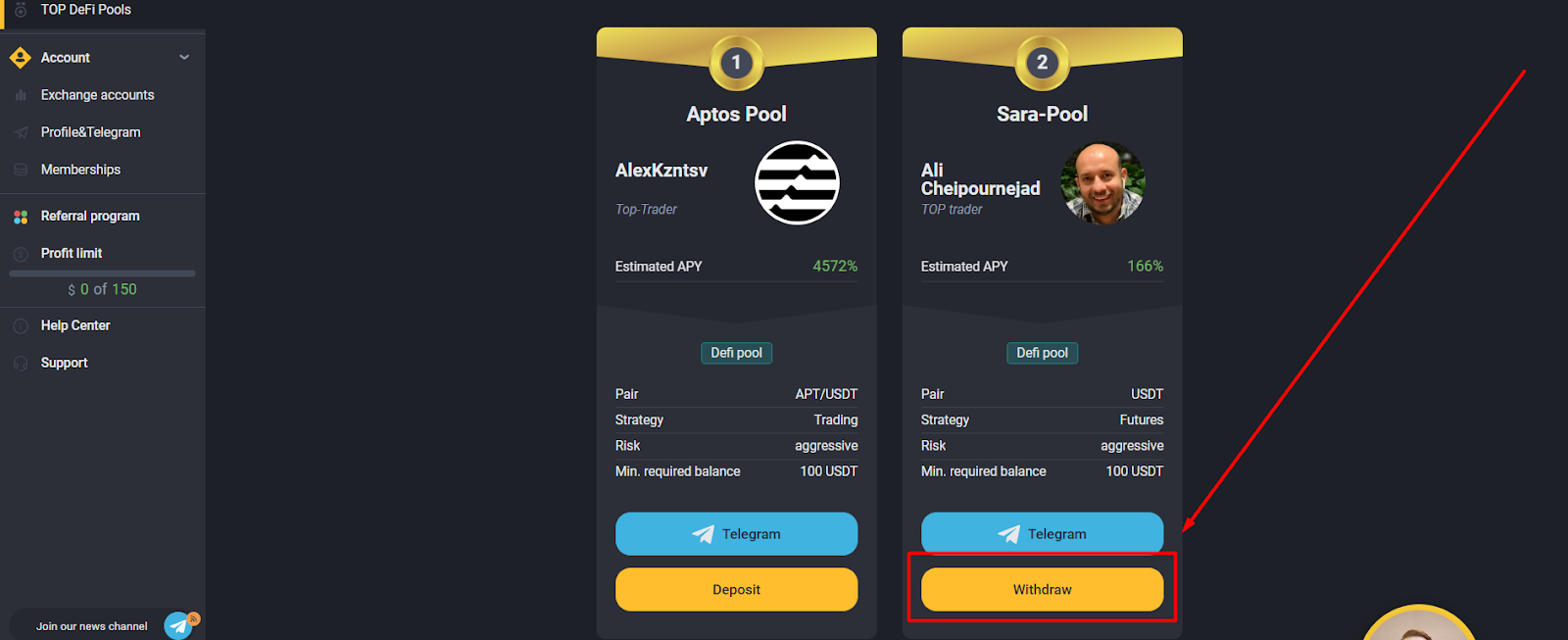 Depending on the trading results of the pool, there are two options:
- your initial deposit will be returned to your balance, plus profit
- if the trade was made with losses, you will be returned the initial deposit minus the loss.
We would like to draw your attention to the fact that the calculation of profit or loss occurs absolutely automatically using a smart contract, to the address of which the funds for the pool are initially collected.
If you have questions that we have not covered in this article, please contact our support.